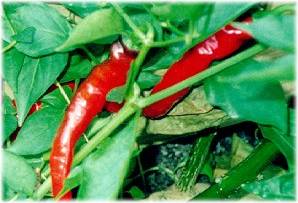 Despite some being quite hot, all peppers are valued for their soothing effects on the digestive system, relief from the symptoms of colds, sore throats and fevers, circulation, especially for cold hands and feet, and as hangover remedies. Peppers act as a heart stimulant which regulates blood flow and strengthens the arteries, possibly preventing heart attacks. Nutritionally, fresh peppers are an excellent source of calcium and vitamin C. To make a medicine, especially with the hottest varieties, dry the peppers and ground into a powder. Use one or two tablespoons in warm water for relief of symptoms. Alternatively, pack the powder into capsules for use when making a tea is not convenient. Please see How to Make Herbal Capsules for more information.
Peppers - especially hotter varieties such as Cayenne - can also be used externally as a remedy for painful joints, for frostbite, and applied directly to stop bleeding. They stimulate blood flow to the affected area, thus reducing inflammation and discomfort. Sprinkle a little powder into gloves or shoes to help stimulate circulation and keep the hands and feet warm. To make a liniment for external use, gently boil 1 tablespoon of hot pepper in 1 pint of cider vinegar. Do not strain, and bottle while hot.
For toothaches, make an Oil out of Cayenne and make a plug out of cotton saturated with the oil. Press into the affected tooth cavity.
Cayenne is safe if used in moderation but can cause problems in people with stomach problems and ulcers.
Custom Search