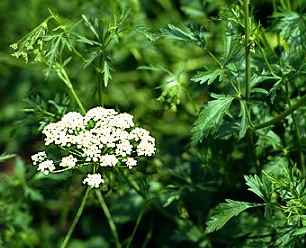 Anise has a long history of medical, magical, and culinary tales to its credit. It is still used widely today as a digestive aid and anti-flatulence agent. Try a simple tea made from crushed seeds after a large meal - you will be surprised at how effective it can be.

Anise has also been used for centuries as an agent for relief of coughs and colds. Indeed, science has proven that the essential oils in the seeds do have expectorant properties. A tea or syrup (add honey to thicken the infusion - see Horehound for complete instructions) can be made for relief from cough and congestion.
Externally, Anise tea can be wrapped in a warm cloth and used as a compress for eye pain.
Try dropping a few seeds in a glass of warm milk before bed to prevent insomnia.
Lastly, Anise seeds can be chewed in the morning for an all-day mouth freshener.
Custom Search