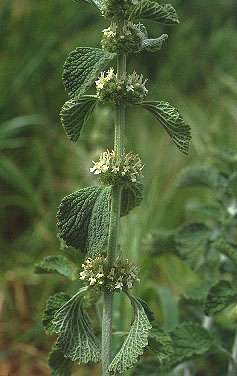 Horehound has medicinally substantiated value as a cough suppressant and expectorant. It includes a volatile oil, Tannin, and a substance formed in the extraction process known as Marrubiin. It can also has some merit as a laxative if given in large doses (it can cause irregular heartbeat in large quantities, so use with caution), and it is sometimes used as a gastric tonic, and as a cleansing agent for wounds.

To make Horehound cough syrup, steep 1 ounce of leaves (fresh or dried) in a pint of boiling water. Cover, and allow to steep for 10 minutes. Strain out the leaves, and then measure the quantity of water remaining. Add honey to equal twice the remaining water, mix well, and bottle. Take 1 teaspoon as needed up to four times per day.

To use as an expectorant or cough soothing medication, take 1 teaspoon of Horehound leaves and pour 1 cup of boiling water over them. Keep covered and take 1 tablespoon at a time as needed.

Horehound tea can also be made and used to ease the symptoms of a common cold. Please follow the instructions in the How to Make Herbal Teas section of this site. The tea can be taken a glassful at a time, 3-4 times per day.

As a wound cleanser, crush Horehound leaves, boil them in a pan of lard, let cool, and use as an ointment on the wound.
Custom Search