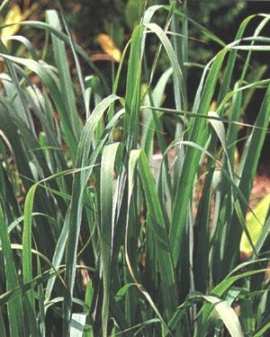 Lemongrass is an herb with a plethora of uses medicinally, from being a stomach soother to being an effective insect repellant and fungicide. A limited study done at the University of Wisconsin revealed that some people taking prepared Lemongrass capsules (140 mg) daily for three months experienced a significant reduction in cholesterol levels, and that their cholesterol levels returned to their previous highs when they stopped taking the preparation. Obviously, this indicates that Lemongrass may help reduce cholesterol in certain individuals.
Make a Tea and drink 1-4 cups per day to relieve congestion, coughing, bladder disorders, headaches, fever, stomach aches, digestive problems, diarrhea, gas, bowel spasms, vomiting, flu symptoms, as a mild sedative, and to promote perspiration - and as a possible cholesterol lowering agent. Rather than discarding the tea bags, use them externally for the problems described below. An Oil can also be made, 3-6 drops of which can be put on a sugar cube for the same purposes as above. The leaves can also be dried and made into a powder for use in Capsules. Please see the link below for more details.
Externally, an Oil can be made with Lemongrass to be applied at 10 drops or so directly to the affected area in cases of athlete's foot, cuts, scrapes, lower back pain, sciatica, sprains, tendonitis, neuralgia, circulatory problems, and rheumatism. It can also be tried on the face to help clear up acne and clean skin pores, and the fresh leaves can be crushed and rubbed on the skin as an on-the-spot outdoor insect repellent.
Use Lemongrass in the bath for a soothing aromatherapy experience by placing a mesh bag with a handful of leaves under the running bath water, then letting the bag soak in the water with you as you bathe. Very relaxing.
Lemongrass is safe for use in moderation, but should be avoided by young children, pregnant women, and people with kidney or liver disease.
Custom Search