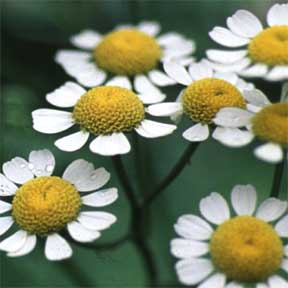 The name Feverfew is certainly suggestive of a fever-reducing plant, but in fact, there is little basis to the claims that this herb helps reduce fevers at all. It does, however, contain substances that have been proven scientifically to help dramatically in some cases of migraine, arthritis pain, rheumatism, and muscle spasms. It also appears to have merit in the control of painful menstruation and can be used as an anti-gas agent and digestive aid.
Because of its bitter taste, making a tea for ingestion is not really an option with this plant. To ward off migraines and muscle pain, many eat a few leaves mixed with other salad greens to dilute the taste. This should not be overdone - maybe 3-4 smaller leaves per day. The leaves and flowers can also be dried and used in capsules - see the link below for further information on how to do this, and the leaves freeze well for later use.
Though it has fallen out of favor as a fever reducer, Feverfew may have some merit taken as a syrup to reduce the discomfort of colds, flu, wheezing, asthma, and breathing difficulties.
Externally, leaves or flowers immersed in water may help in cases of sore feet or foot swelling, and ointments or oils can be made for acne, bruises, and insect stings. Taking a clue from bees, who will not go near the stuff, it stands to reason that Feverfew makes a good insect repellant, and the fresh leaves can be rubbed on the skin or made into an ointment for protection from biting and stinging insects.
Custom Search