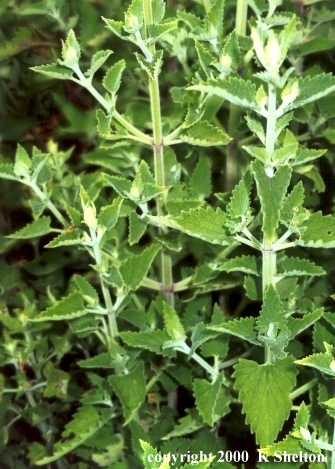 Catnip is a very mild herb medicinally, and does have some worthwhile effects. It makes a soothing tea which is mild enough to give to small children. In many cultures, it is thought to purify the blood, but it also has definite merit when used for its calming and sedative effects, both in adults and in small children. It is said to relieve the symptoms of colic in children, and can be used as a digestive aid for adults.
The oils in Catnip are very volatile, so protect a Tea with some sort of cover to keep the medicinal effects intact longer.
There has been some discussion in the past about Catnip fumes and whether or not Catnip gives a high when smoked like a cigarette. One report in the 60's stated that indeed, it does produce a mild psychoactive high. I haven't tested this myself, but when I do, I'll put my critique out here......
Catnip leaves can be dried, pulverized, and made into a powder for use in capsule form. Please see How to Make Herbal Capsules for more information.
Custom Search