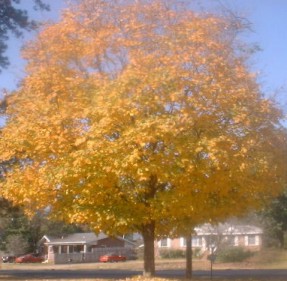 If you are looking for an attractive, fairly large specimen landscape or shade tree, then take a close look at the Sugar Maple. This tree offers hard wood that is resistant to storm damage, a pleasing rounded form, easy care, and always spectacular fall foliage ranging from yellow to burnt orange to red. It is hardy to zone 2 and is the source of Maple Syrup and Maple Sugar. It is a very long-lived tree, with occasinal individuals being documented at over 500 years old. The Sugar Maple grows up to 100 feet at maturity, and provides fairly deep shade, which may make it difficult to grow a healthy lawn under it's canopy. This is a wildlife friendly tree with sturdy nesting branches and small, greenish-yellow drooping clusters of seeds that birds love. Deer browse the tree, and squirrels eat seeds, nuts, leaves, and twigs.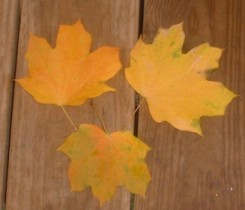 The Sugar Maple has a pleasing, rounded form at maturity, and is easy to grow, preferring moist, rich soil. It flowers in the spring, and produces winged seed in the fall, after which it will drop its leaves for the winter, often all at once in an opportune rainstorm. It is a slow grower and will take many years to reach mature height. It will withstand some shade, but seems to prefer full sun. For those with kids, it makes a great tree-house tree. It is sensitive to pollution, salt and drought, so take this into consideration if you are by the sea or in an urban setting.
Please click on the thumbnails below for pictures of a Sugar Maple in summer and fall that is at approximately 60 feet at this writing.
Custom Search