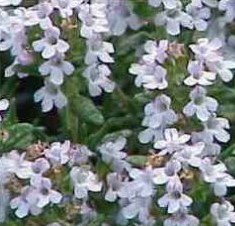 Creamed Sweet Potatoes with Garlic & Thyme
6-8 sweet potatoes cut into chunks
1 small chopped onion
1 minced clove of garlic
3 tablespoons of butter or margarine
1 cup milk
1 teaspoon of salt
1 teaspoon of dried thyme
Pepper to taste
Bring potatoes to a boil in an appropriate pot, then reduce the heat and let simmer until tender. Drain and set aside. In the same pot, melt the butter, then add the onion and garlic. Cook these until golden brown, stirring frequently - for about 5 minutes. Remove the pot from heat, return the potatoes, and add the remaining ingredients. Mash until smooth. Serves 6-8.
Poached Salmon with Fresh Thyme
1-1/4 pounds boneless salmon (skinless) cut into 4 pieces of equal size.
6 sprigs fresh thyme
Salt and Pepper to taste
Place fish in a shallow pan and cover with water. Add thyme, salt, and pepper.. Bring to a boil and cover, lower heat and let simmer for 5 minutes. Serve immediately. Serves 4.
Custom Search