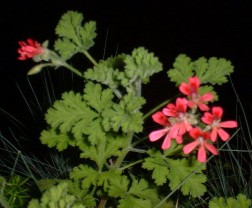 Scented Geranium does not have wide usage in the kitchen, but there are a few things you can do with it.
When baking a cake, spread Scented Geranium leaves on the baking pan and then pour in the batter. The Scented Geranium will help flavor the cake and the leaves can be peeled off after the cake has cooled for an interesting pattern on the cake.
With so many types of Scented Geraniums available, nice additions to drinks or garnishes for salads can be made, such as lime scent for rum drinks or rose for salad, etc.
Custom Search