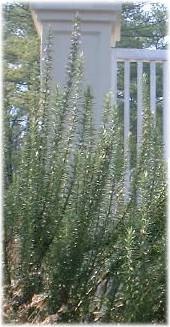 Chicken Salad With Rosemary
3 celery ribs
3 cups cubed cooked chicken
1/2 cup fat-free mayonnaise
1/2 cup fat-free sour cream
1 tbsp fresh rosemary
Thinly slice the celery and combine it in a bowl with the chicken. Blend together the mayonnaise, sour cream and rosemary. Pour the dressing over the chicken and celery, stirring until the ingredients are thoroughly mixed. Serve immediately or refrigerate for up to 24 hours.
Sautéed Scallops with Rosemary & Lemon

1 pound of fresh or frozen scallops
2 tablespoons extra virgin olive oil
1 clove garlic, peeled and sliced
3/4 teaspoon dried rosemary
salt and freshly ground pepper
1 tablespoon lemon juice

Put the oil and the garlic in a frying pan and cook the garlic until golden. Add the rosemary, scallops, salt and pepper and cook over a high heat until they are cooked, about 2-3 minutes. Add the lemon juice and turn up the heat for a few seconds. Serve hot.
Custom Search