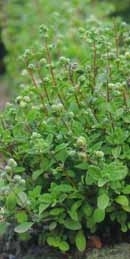 Grilled Corn with Marjoram Butter
4 ears of corn in the husks
4 tablespoons of butter
Sea salt
Handful of Marjoram sprigs
4 strips of husk for tying
Peel back the husks on each ear of corn and remove the silk. Try to keep the husks as intact as possible while doing this, and don't detach from the bottom of the ear. Cover each ear with a coat of butter, and press Marjoram sprigs into this. Re-cover each ear with the husk, and tie at the top with a strip of husk to secure. Place on the edges of the grill away from the hot center. Grill for 20 minutes or until done. This is a very aromatic way to grill corn, and the taste is exceptional.
Macaroni & Cheese with Herbs
7 ounce bag of elbow macaroni - cooked & drained
3/4 teaspoon dried Marjoram
1/2 teaspoon dried Thyme
1/8 teaspoon ground nutmeg
1/8 teaspoon paprika
1 tablespoon of Dijon mustard
1/2 cup parmesan cheese
1 cup cottage cheese
3 tablespoons of flour
2 cups of milk
Melt margarine in a saucepan. Slowly stir in flour until you reach a smooth consistency. Gradually add milk, stirring constantly, and then bring to a boil for 2 minutes or until thickened. Add marjoram, thyme, nutmeg, and paprika and stir in. Remove from heat and stir in mustard, 1/3 of a cup of the parmesan cheese, macaroni, and cottage cheese. Mix well. Put in a baking dish and bake for 30 minutes at 350.