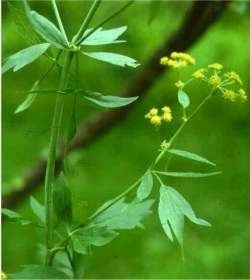 Corn on the Cob with Lovage Butter
4 husked ears of corn on the cob
4 tablespoons of butter
1 tablespoon of shredded Lovage
Salt & Pepper to taste
Steam or boil the corn until cooked through. Melt the butter in a pan and add the salt, pepper, and Lovage. Heat gently until Lovage is tender, 3-5 minutes. Pour over corn and serve hot.
Peas & Carrots with Lovage
1 pound of fresh or frozen peas
1 1/2 pounds of baby carrots - sliced
2 tablespoons of chopped Lovage
3 tablespoons of mayonnaise
3 tablespoons of regular yogurt
1 teaspoon of mustard

Combine the peas and carrots and steam for 10-15 minutes. Set aside. Mix the other ingredients thoroughly, then add the peas and carrots. Place in the refrigerator and allow to cool completely, and serve as a cool and refreshing side dish.
Custom Search