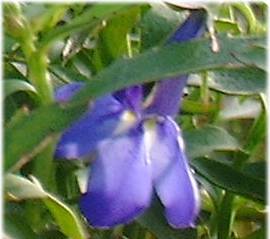 Lobelia is bound to Neptune and Water. It is a dual agent magickal herb that can be used for both good and bad results. Where red roses express love, Lobelia expresses hate or malevolence. It is never recommended that you practice spell magick for malevolent purposes, but if you do, prepare for unpredictable results with Lobelia.
Other uses for Lobelia include storm magick (throw dried herb into the wind or burn in a ritual), love magick (use in rituals for love or anti-love), and combined with other herbs for purification and divination rituals.
For those interested in fairy magick, Lobelia is a must-have addition to the fairly garden.
Custom Search