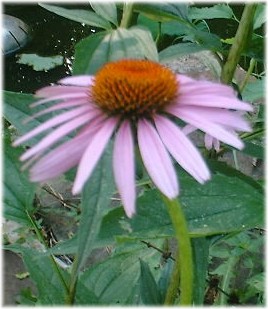 Echinacea is well known for its anti-viral, anti-bacterial, anti-fungal, and anti-inflammatory properties. It is commonly recommended by herbalists as an agent to lessen the symptoms and duration at the onset of a cold or the flu. Liquid form seems to be the most effective way, taken in a Tea to be used up to 6 times per day, or as an Oil at one drop every 2-3 hours or so (mix it in warm water because it tastes bad). Alternatively, the leaves can be dried, pulverized into a powder, and made into Capsules for when it is inconvenient to utilize its beneficial properties otherwise. This method also solves the problem of the bad taste. As a cold and flu preventative, Echinacea has not been conclusively proven scientifically, but as with most herbs, it hasn't been tested extensively either. There are plenty of people who swear by it, and it is safe to take intermittently for a couple of weeks a month if you want to experiment with its possible preventative properties.
Echinacea also appears to be useful for a plethora of other common ailments, and a tea can be made to reduce symptoms of scratchy or sore throat, lymph node inflammation, stomach cramps, and urinary tract infections. There is some indication that it is beneficial in cancer patients, helping to rejuvenate the system after chemotherapy, and it is widely used as a general blood purifier. Externally, it can be made into an Ointment for treatment of insect bites, burns, measles, skin ulcers, herpes sores, cold sores, and yeast infections in women. The Indians swore by it as being an effective anti-venom agent for snakebites, but this hasn't been conclusively proven. It would sure be worth a try in a situation with no doctors close by, however.
Echinacea is safe to use other than for people with allergies to members of the daisy family. A doctor should be consulted first for people with AIDS, HIV, or other immune system problems.
Custom Search