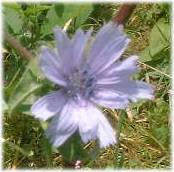 Chicory teas taken internally are believed to be effective in treating jaundice and liver problems. Additionally, as with many other herbs, a tea made from roots or leaves appears to be useful for those with digestive problems.
Save a little tea and try dipping a cotton ball into it for a refreshing and soothing eye wash. You can also add a spoonful or two of honey to thicken and use as syrup for a mild laxative for kids. For long-term use, try drying and pulverizing Chicory leaves into a powder for use in capsule form. Please see How to Make Herbal Capsules for more information.
For external use, bruise fresh Chicory leaves and apply to areas affected by gout, skin eruptions, swellings, skin inflammations, and rheumatism.
Custom Search